On the morning of 5 April 2022 (10:00 – 12:30 CET), EU-AMRI will be formally launched in Brussels. The official launch is broadcasted live from Brussels, hosted by Vivienne Parry, and can be attended online for free. More information on this event can be found in the EU-AMRI Launch agenda.
The EU-AMRI Launch programme includes a key note from Prof. Walter Ricciardi, former Chair of the Cancer Mission Board, followed by a presentation of EU-AMRI, and is closed by a round-table discussion with important stakeholders for the future of the EU-AMRI Alliance. An introduction to the invited speakers is listed below, and join us online to see the presentations and follow the discussions.
KEYNOTE ADDRESS
Professor Walter Ricciardi - Former Chair of the Cancer Mission Board
Professor of Hygiene and Public Health at the Catholic University of the Sacred Heart in Rome. In August 2015 he was appointed President of the Italian National Institute of Health (Istituto Superiore di Sanità) where he was Commissioner from July 2014 to July 2015. In 2010 he was elected President of the European Public Health Association (EUPHA) and in 2011 he was re-elected for a second term up to 2014. Since 2014 he is Past President of EUPHA. In 2011 he was appointed Member of the European Advisory Committee on Health Research to the WHO European Regional Director and from 2011 to 2014 he was Member of the Executive Board of the National Board of Medical Examiners of the USA.
ROUNDTABLE DISCUSSION
Dr. Pierre Mulien - Executive Director, Innovative Health Initiative
Pierre Meulien is Executive Director of the Innovative Health Initiative (IHI), a public-private partnership between the European Union and the European life science industries. From 2010 to 2015, Dr Meulien was President and CEO of Genome Canada, where he raised significant funds for the organisation and oversaw the launch of novel projects and networks in the field of genomics-based technologies. Prior to that from 2007 to 2010, he was Chief Scientific Officer for Genome British Columbia. From 2002 to 2007, Dr Meulien served as founding CEO of the Dublin Molecular Medicine Centre which linked medical schools and teaching hospitals in Dublin to build a critical mass in molecular medicine and translational research. Dr Meulien also worked in the private sector with the French biotechnology company Transgene, and with Aventis Pasteur (now Sanofi Pasteur). He has a PhD in molecular biology from the University of Edinburgh and carried out a post-doctoral fellowship at the Institut Pasteur in Paris.
Ms. Anna Panagopoulou - Director of ERA and Innovation, DG Research and Innovation, European Commission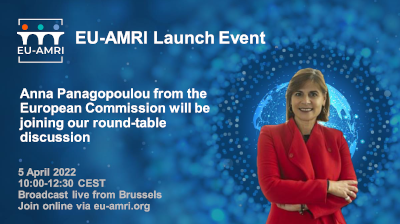 Anna Panagopoulou is Director of 'European Research Area & Innovation' at the Research and Innovation Directorate General of the European Commission. She is responsible together with her teams to co-create with Member States and stakeholders policies to shape a globally competitive European research and innovation system that is open, performant, cohesive and conducive to transformative innovation for a sustainable future. She has been working in the Commission in various policy and management roles for 24 years. She holds a master degree in electrical engineering and has a long professional experience in private and public sector.
Vivienne Parry - Writer, broadcaster, and moderator of the EU-AMRI launch event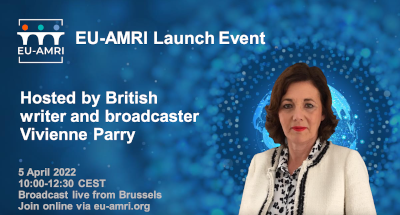 Vivienne Parry is a British writer and broadcaster. A scientist by training, Vivienne hosts medical programmes for BBC Radio 4, writes widely on health, presents films, facilitates many high level conference and trains young researchers. She has a part time role as Head of Engagement at Genomics England which delivered the 100,000 Genomes Project. She has recently completed her term as a board member of UKRI, the body responsible for the strategic spend of the UK's £7 billion annual research budget.
Radislav Sedlacek - Former Chair of the ESFRI Health & Food Strategic Working Group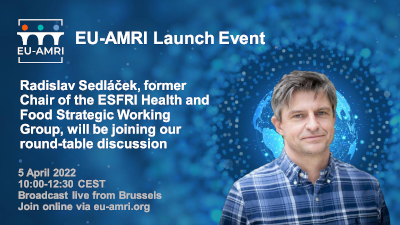 Radislav Sedlacek is focused on functional analysis of gene functions and is currently the chair of the steering committee of IMPC, a worldwide consortium aiming to produce a genome-wide catalogue of gene function data that enable therapeutic discovery and genomic medicine. Radislav Sedlacek served (2020-2021) as a chair of the Strategic Working Group for Health and Food, and as a deputy director of IMG for building the BIOCEV centre of excellence.
Anca Toma - Executive Director, European Patients' Forum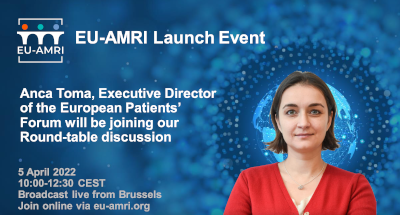 Anca Toma joined EPF as Executive Director in March 2022. Her career started in the Romanian EU accession negotiations team, continued as a consultant in a public affairs and communications agency in Brussels, followed by ten years in Smoke Free Partnership, a European coalition of NGOs working to advance tobacco control for cancer and NCD prevention. Anca has over 15 years of experience in European health policy working in policy advocacy, strategic communications, developing and coordinating successful pan-European advocacy campaigns, and leading her team and organisation. Anca is a political science graduate of the University of Bucharest and holds a masters in European politics and administration from the College of Europe.
Professor Radka Wildova - Deputy Minister, Ministry of Education, Youth and Sports of Czechia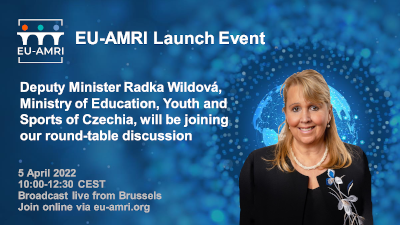 Prof. Radka Wildová graduated from the Faculty of Education, Charles University. After an early career teaching experience at several primary education institutions, she joined the Faculty of Education at the Charles University in 1993 as an academic staff member, and she also became the Dean from 2009 to 2016. In 2016, she was appointed the Vice-Rector of Charles University for the Concept and Quality of Educational Activities. In February 2022, she joined the Ministry of Education, Youth and Sports as the Deputy Minister, where she heads the section of higher education, science and research. She has authored or co-authored a number of professional publications, and is a member of numerous national and international expert teams (e.g., International Reading Association, Council of Europe – Committee for the Development of Educational Activities, etc.).
EU-AMRI PRESENTATION
EU-AMRI: Joining Forces to Accelerate Patient-centric Biomedical Research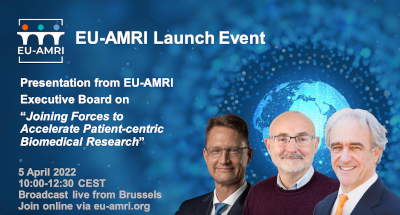 EU-AMRI, the European Alliance of Medical Research Infrastructures, is the collaboration between the European research infrastructures BBMRI-ERIC, EATRIS-ERIC, and ECRIN-ERIC. During this virtual launch event, live broadcasted from Brussels and to be followed online, the EU-AMRI Directors will formally present the Alliance of the three research infrastructures in the field of biomedical sciences and support of the development of personalised medicine and new treatments. EU-AMRI is represented by Jens Habermann (Director General, BBMRI-ERIC), Toni Andreu (Scientific Director, EATRIS-ERIC), and Jacques Demotes (Director General, ECRIN-ERIC).
Back